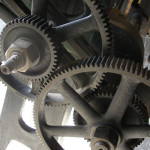 We wrote a few days ago about the new Colorplast factory to be built in Rock Hill, SC.  It turns out that this European concern didn't end up on South Carolina by accident.
As part of its industrial recruiting plan, South Carolina is focusing on STEM education-thats "science, technology, engineering and mathematics.
With a program developed at Clemson University, the state is focusing on online education to give its workers the skills that modern manufacturing requires.
As a result, the state has taken a manufacturing base that was focused on textiles and broadened it to cover lots of new industries.