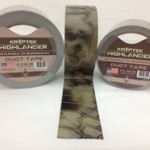 Pro Tapes & Specialties is ushering in the fall hunting season with the introduction of a line of camouflage tape.
Partnering with Kryptek, a maker of outdoor gear, the Pro Tapes version of camouflage duct tape has a matte finish to better blend in when maximum concealment is the goal.
The tape is strong, hand tearable and durable.
Kryptek has developed a special camouflage pattern that is available only in this product.
Expect to see the Kryptek duct tape for sale at high end outdoor outfitters and sporting goods stores.
Click here to learn more.