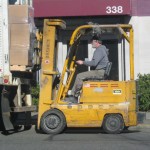 This article on the San Francisco Chronicle web site caught our eye.
It promotes the use of floor marking tape to increase efficiency in material handling and inventory control.
If the article resonates with you, floor marking tape supplies are available by clicking here.
Allabouttape.com is your source for information about the adhesive tape industry. All the news about gaffers tape, safety tapes, duct tape, vinyl tapes and new developments in tape technology. Share your comments and questions with us.