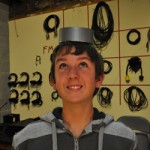 It's been a running joke around our shop for years that we should go to the local mall and open up a tape store.
It appears, that, at least in New York City, it isn't a joke.
Duck brand duct tape has actually opened a store in midtown Manhattan.
Located at 1411 Broadway, the Duck store is a temporary "pop up" store that will be open until April 28.
You can read more here.
Their margins on duct tape must be a lot higher than ours if they can afford Manhattan rent!
Allabouttape.com is your source for information about the adhesive tape industry. All the news about gaffers tape, safety tapes, duct tape, vinyl tapes and new developments in tape technology. Share your comments and questions with us.