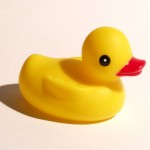 In perphaps the least logical piece of tape news we have published lately, The company that makes "Duck" brand duct tape has announced that they are teaming with the new Avengers movie to release an Avengers version of their branded duct tape.
Duck describes the partnership as "the ultimate powerhouse pairing".
I don't know about you, but when we hear the word "powerhouse" an image of a duck is not what normally comes to mind.
Allabouttape.com is your source for information about the adhesive tape industry. All the news about gaffers tape, safety tapes, duct tape, vinyl tapes and new developments in tape technology. Share your comments and questions with us.