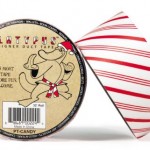 Market Watch, the online publication of the Wall Street Journal, recently posted this profile of Fortis Designs, the Raleigh, NC maker of printed designer duct tape.
Fortis is currently featuring Christmas themed products that are sure to appeal to "do it yourself" gift makers and holiday decorators.
You can purchase Fortis' Platypus Designer Duct Tape by clicking here.
Allabouttape.com is your source for information about the adhesive tape industry. All the news about gaffers tape, safety tapes, duct tape, vinyl tapes and new developments in tape technology. Share your comments and questions with us.