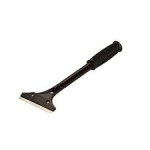 Any tape can leave adhesive stains on a household surface if it is left in place too long, allowed to get hot, or to get wet.
These steps will remove most adhesive stains.
Gently scrape with a narrow edged blade like a knife or paint scraper, but don't scrape all the way down to the surface.
Use a clean sponge or lint free cloth moistened with warm, soapy water to gently rub the remaining stain.
Gently scrape again after the soapy water softens the adhesive.
Rinse with clean warm water and wipe dry with a lint free cloth.
If t hat does not work it may be necessary to use an adhesive solvent.
This one works well.
Allabouttape.com is your source for information about the adhesive tape industry. All the news about gaffers tape, safety tapes, duct tape, vinyl tapes and new developments in tape technology. Share your comments and questions with us.