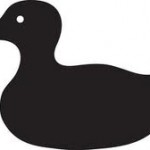 For years, I had been under the impression that the term "duck" used in the description of that ubiquitous silver tape instead of the correct word "duct" was because the tape was waterproof.
Now, it turns out that the answer is not so simple. According to a story in the Daily News Miner, an Alaska online newspaper, the term "duck" comes from a corruption of the Dutch word "doek", which means "linen canvas".
Allabouttape.com is your source for information about the adhesive tape industry. All the news about gaffers tape, safety tapes, duct tape, vinyl tapes and new developments in tape technology. Share your comments and questions with us.