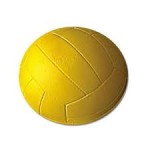 A new series of party games and entertainment are counting on neon gaffers tape to keep the games on the court.
Taking advantage of the characteristic of this tape to glow under black light, live gaming companies are using gaffers tape to outline playing courts for games like Blacklight Volleyball.
Click here and take a look.