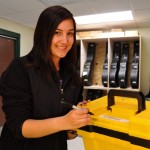 I just came across a really beautiful "Web book" titled "The Birth Story of mt".  In this case, mt is short for "masking tape".
It turns out that is not actually about masking tape, but rather about Japanese Washi tape, a delicate printed paper tape used mainly in decorating, crafts and scrap bookking.
Everybody knows that masking tape was invented by a 3M scientist in 1925.
Allabouttape.com is your source for information about the adhesive tape industry. All the news about gaffers tape, safety tapes, duct tape, vinyl tapes and new developments in tape technology. Share your comments and questions with us.