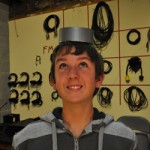 Investinganswers.com has released its list of "The 5 Most Overpriced Items You Should Never Buy In A Grocery Store".  Included on the list-duct tape.
This consumer advice web site warns against making impulse purchases of non-grocery items at the grocery store, pointing out that retailers know which items can command the highest prices as a "last minute-must have" item.
Stick to your grocery list and shop at a hardware or specialty store, not at the grocery store, for these high margin items.
Allabouttape.com is your source for information about the adhesive tape industry. All the news about gaffers tape, safety tapes, duct tape, vinyl tapes and new developments in tape technology. Share your comments and questions with us.