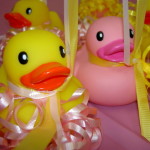 This is the week when any news about tape must take a back seat to the Avon Heritage Duct Tape Festival. June 14 is the opening date for the world's premier duct tape event and this year is shaping up to be one of the best ever.
This is the tenth anniversary of the event and the theme will be "Decades of Duck Tape". There will be a parade with duct tape themed floats, tape crafts, a fundraising running event and lots more.
Whatever plans you may have made for the weekend, cancel them and head for Avon, Ohio.