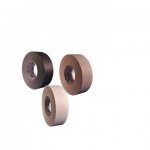 Cotton futures have reached a 12 month low, down by almost a third since this time last year.  Since the primary component in most cloth tapes is cotton, the price of these tapes should remain stable for the foreseeable future.
While oil prices (the primary component in high quality tape adhesives) have been less stable, they are also trending down.
Allabouttape.com is your source for information about the adhesive tape industry. All the news about gaffers tape, safety tapes, duct tape, vinyl tapes and new developments in tape technology. Share your comments and questions with us.