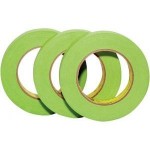 Green masking tape, one version of painter's masking tape, the stuff that is supposed to not leave a residue, has been around for awhile.
3M's "Greener" masking tape is about sustainability, not about the color of the tape.
This new product is made from 56% renewable resources.  The adhesive is natural latex rubber and the paper backing is 30% recycled content. 3M is also using a solvent-free water-based manufacturing process.
The tape is available in two versions-utility grade for basic painting and performance grade for professional painters.
Read more about their new product announcement here.
Allabouttape.com is your source for information about the adhesive tape industry. All the news about gaffers tape, safety tapes, duct tape, vinyl tapes and new developments in tape technology. Share your comments and questions with us.