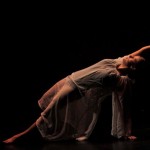 Inspect floor under where the dance floor will be installed for exposed nail and screw heads. Remove or re-seat any that rise above the floor surface.
Sweep, then damp mop floor and allow to dry completely.
Roll out dance floor and allow flooring to "relax" for at least two hours before completing install.
If flooring has not reached room temperature within two hours, add additional pre-installation time.
Roll floor out one section at a time and place the next section adjacent, with a 1/8 inch gap between pieces.
Cover gaps between sections with vinyl floor tape, stretching the tape enough to pull out wrinkles but not so much that it will creep back to its original length.
Do not allow the tape to pull or re-position the floor as the tape is applied, as this will cause the floor to pucker.
Tape the end pieces in a continuous seam after the long edges are taped.
Allabouttape.com is your source for information about the adhesive tape industry. All the news about gaffers tape, safety tapes, duct tape, vinyl tapes and new developments in tape technology. Share your comments and questions with us.