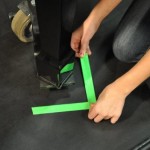 3M, the 1000 lb. gorilla in the tape manufacturing universe, has awarded master electrician Tim Frost a new Ford F150 pickup truck in its "Made In America" contest.
The contest was used to promote 3M Scotch Super 33+  electrical tape.
If you're interested in good electrical tape at a price that doesn't include a mark up to cover the cost of giving away a truck, click here.
Allabouttape.com is your source for information about the adhesive tape industry. All the news about gaffers tape, safety tapes, duct tape, vinyl tapes and new developments in tape technology. Share your comments and questions with us.