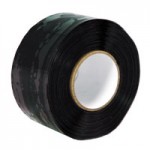 Midsun Speicalty Products, the makers of well known silicone self-fusing tape, now offers a new version of the product called Nitro Tape.
Nitro Tape is designed for extreme environments, particularly automotive.  It will withstand temperatures up to 500 degrees fahrenheit and is rated to provide electrical insulation up to 8,000 volts.
Allabouttape.com is your source for information about the adhesive tape industry. All the news about gaffers tape, safety tapes, duct tape, vinyl tapes and new developments in tape technology. Share your comments and questions with us.