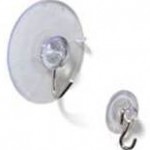 The tape of the future may use tiny suction cups instead of adhesive to create a reusable bond.
Experiments with materials that use thousands of micro suction cups are proving useful in creating bonds between two surfaces that can be released at will, leave no adhesive residue and can be used over and over again.
What would be known as the sticky side of the tape houses row upon row of micro craters that create a partial bond between the tape and the surface to which it is affixed.  The tape can be re-energized by wiping with a damp cloth to clean any residue that might collect in the craters.
Allabouttape.com is your source for information about the adhesive tape industry. All the news about gaffers tape, safety tapes, duct tape, vinyl tapes and new developments in tape technology. Share your comments and questions with us.