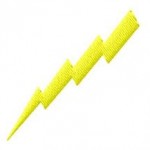 This article on  "electrically conductive adhesives" got me to thinking.  If  adhesives can be made to be electrically conductive, then why wouldn't it be possible to replace an audio cable or an extension cord with a piece of tape?
While it is true that the current application for adhesives that conduct electricity is primarily to improve the connections between devices in electronic circuits (better transfer rate, less creation of heat, etc.) why wouldn't be possible to just get rid of the electronic devices altogether and just use the adhesive?
Zone coating of adhesive on cloth tapes is already a reality, so it would be possible to keep adhesive tapes carrying current (data) separate within the body of the tape.
Adhesives are given electrical conductivity by suspending carbon particles in the epoxy or silicone resins, two types of adhesives that are already used in the manufacturing of cloth tape.
The decrease in cost and weight by replacing expensive and ever-more-difficult to obtain copper would easily offset the cost of  having to periodically replace the conductive tape.
You can read more about conductive adhesives by clicking here.
Allabouttape.com is your source for information about the adhesive tape industry. All the news about gaffers tape, safety tapes, duct tape, vinyl tapes and new developments in tape technology.  Share your comments and questions with us.