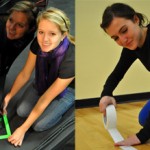 Rather than using paint, many industrial and other workplaces now use tape for floor layout.
Use these tips when lining your floor.
-Use long lengths when practical. The fewer ends and splices a tape line has, the less likely it is to peel up
-Make sure the tape you use is intended for long term durability. Paper tapes and thin vinyl will not stand up to heavy foot traffic
-Choose a tape with an adhesive that will stand up to the environment when it is used. Oil, grease and cleaning solutions can cause taped lines to delaminate
-Thinner tapes,if designed to be durable, will work better in heavy traffic and around forklifts and other motor vehicles
-Use color fast colors that will not fade when exposed to sunlight or cleaning solutions
Click here for a large selection of floor tapes.