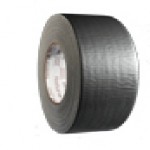 3M's claims that its new Performance Plus duct tape  can be removed cleanly for up to six months after applying without leaving adhesive residue.
The new tape also features a backing that is UV resistant so that it will stand up to direct sunlight exposure for up to a year.
Allabouttape.com is your source for information about the adhesive tape industry. All the news about gaffers tape, safety tapes, duct tape, vinyl tapes and new developments in tape technology. Share your comments and questions with us.