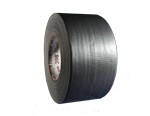 The FDA cited the use of duct tape and cardboard to repair its product filling lines as one of the many reasons that Pax-All would no longer be allowed to export their products to the United States.
The Food and Drug Administration pointed to what it said was inadequate testing, labeling and documentation in their decision to block Pax-All's over-the-counter products from being exported to the U.S.
Allabouttape.com is your source for information about the adhesive tape industry. All the news about gaffers tape, safety tapes, duct tape, vinyl tapes and new developments in tape technology. Share your comments and questions with us.