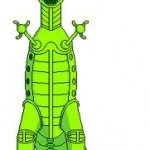 New internet startup Shelby TV introduced themselves to the South By Southwest Interactive conference using a mechanical dinosaur made with silver duct tape.
Shelby chose the low tech approach in their introduction, making their iconic mechanical dino out of cardboard and covering it with sticky tape to make a approximation of the Transformers cartoon character Grimlock, a T-Rex.
You can see Fake Grimlock if you click here.
Tapenews.com is your source for "all the news that's fit to stick". Send us your interesting tape news and we'll share it with the world! Thetapeworks.com