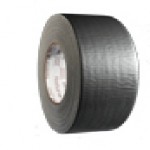 As you read this, a giant roll of duct tape loaded on a flat bed truck is on its way to House Speaker John Boehner's district office in Pennsylvania.
The truck, with signs that call it the "Emergency Bridge Repair Team" is sponsored by the Laborers' International Union of North America, a 500,000 member labor organization. It is part of a 14 city tour to urge the passage of the long delayed highway bill.
In addition to visiting fourteen Congressional Offices, the giant tape roll will also make appearances at bridges and highways in need of repair in those districts.
No word yet for a final destination for the duct tape.  Maybe the world's largest summer camp crafts class.  They could make a duct tape wallet to hold the $260 billion dollars called for in the bill.
Click here to see the giant tape roll.
Allabouttape.com is your source for information about the adhesive tape industry. All the news about gaffers tape, safety tapes, duct tape, vinyl tapes and new developments in tape technology. Share your comments and questions with us.