Chris and Colby Moyer, two brothers from East Stoudsburg, PA, are taking advantage of a new program at CES, the giant Las Vegas Consumer Electronics Show, to show off their adhesive tape product Dockem.
Dockem is a tape product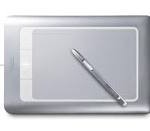 designed for wall mounting of electronic display devices like tablet computers.  It is intended for mounting without damaging paint or wall paper.
The Moyers are displaying their product in CES's "Eureka Park, an area limited to first time exhibitors with a exhibition fee of only $1000.
Allabouttape.com is your source for information about the adhesive tape industry. All the news about gaffers tape, safety tapes, duct tape, vinyl tapes and new developments in tape technology. Share your comments and questions with us.