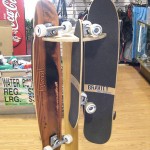 Taking a product made for one purpose,  giving it a new name that resonates with a  narrow customer niche, and focusing your marketing on building a new brand is a time honored way of expanding a manufacturer's footprint.
I came across this Yahoo Sports News posting and thought it was an excellent example of how this sort of marketing works.
Skateboarding has become big business and has spawned lots of of specialty products designed just for skaters.  Every town has a skate shop and major retailers have embraced the sport as well.
A key component to skateboard control is a product called "grip tape".  It is a gritty tape like sandpaper with a very sticky backing designed to go on the top of the skateboard to give the skater better "grip" on the board's otherwise slick surface with his shoes.
Skate shop suppliers provide the tape in short, die-cut lengths designed to adhere directly to the top of the skateboard.
In reality, the product is something called "anti-slip" tape, a safety product which is designed to be put on sidewalks, stairs and ramps to give extra "grip" to anyone who might walk on the surface.  It has an adhesive designed to hold in inclement weather and to stay firmly stuck even after it gets wet dozens of times.  It also has good UV protection, so it doesn't break down when exposed to sunlight.
Skate shops sell a foot long strip of this tape for as much as $3.00.  We sell a 20 yard roll for $13.99.  I think that you can do the math.
Allabouttape.com is your source for information about the adhesive tape industry.  All the news about gaffers tape, safety tapes, duct tape, vinyl tapes and new developments in tape technology.  Share your comments and questions with us.