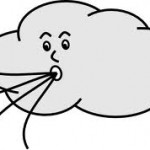 If  you're starting to feel cold drafts around your windows and doors, then it is probably time to do some winterizing.
Foam weatherstripping, which is really just a thick, compressable self-adhesive tape, is the simplest and least expensive way to save big on winter heating bills.
Click here for some tips on getting ready for winter.
Allabouttape.com is your source for information about the adhesive tape industry. All the news about gaffers tape, safety tapes, duct tape, vinyl tapes and new developments in tape technology. Share your comments and questions with us.