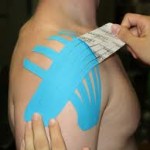 Noted athletes are using tape to make a fashion statement, even as they use it to manage pain.
Kinesio tape, an athletic training injury treatment developed by a Japanese chiropractor over 30 years ago, is now appearing in new clors and styles on some of the most famous athletes in the world.
Well known names like tennis player Serena Williams are using bright colors and patterns that are clearly obvious to their competition and to the fans.
You can see photos of some famous athletes with their kinesio taping by clicking here.
Allabouttape.com is your source for information about the adhesive tape industry. All the news about gaffers tape, safety tapes, duct tape, vinyl tapes and new developments in tape technology. Share your comments and questions with us.