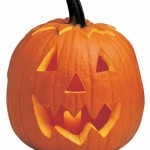 A little extra time spent on Halloween costume design can greatly improve your child's safety in the dark.
Glow tape is designed to glow for hours after just a few minutes of exposure to light.  A few pieces of strategically place tape makes a costume and the child in it much more visible in the dark.
Glow tape uses a safe, non-radioactive light source that is incorporated into the vinyl or cloth that creates the tape backing.
You can read more about how glow tape glows by clicking here.
Recent innovations in glow tape technology have made it available in a new cloth format that can actually be sewed onto a costume.
You can purchase cloth glow tape by clicking here.

Allabouttape.com is your source for information about the adhesive tape industry. All the news about gaffers tape, safety tapes, duct tape, vinyl tapes and new developments in tape technology. Share your comments and questions with us.