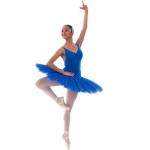 If you know much about tape,  you are aware that there are lots more names for tape than actual tapes that exist.
This is particularly true for a product known generically as "dance floor tape".
This name was derived from the use of portable dance floors, primarily used for ballet and modern dance, that are made from vinyl.  This material was designed to be rolled up so that it could be easily stored and transported.  Once it was unrolled, tape was used to cover the seams so that the performance surface would feel seamless to the dancer's feet.
This type of flooring was developed by a British company called "Marley" which is no longer in business.  Naturally, the tape they sold with their flooring system was called "Marley tape" and the name has stayed even though the company is now out of business.
Dance floor or "Marley" tape is made by a number of different manufacturers and is primarily used for color coding,  decorative striping and aisle marking.  The customer base that refers to this tape as dance floor tape is a very small subset of the larger user base.
A good vinyl dance floor tape has these characteristics:
Backing           PVC vinyl
Adhesive       Synthetic rubber resin
Thickness      6 mil
Adhesion       22 oz/in
These characteristics make it easy to clean, resistant to water and sun light and conformable to uneven surfaces.
It is offered in lots of colors and can be color matched to almost all portable vinyl dance floors.

Allabouttape.com is your source for information about the adhesive tape industry. All the news about gaffers tape, safety tapes, duct tape, vinyl tapes and new developments in tape technology. Share your comments and questions with us.