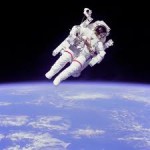 Everybody has head the tales of how duct tape saved the day and helped a crippled Apollo spacecraft make it back to earth.
Well, move over duct tape.  Gaffers tape is now the favorite for space explorers all over the known universe.
Josh Taylor and Edward Bishop used gaffers tape to hold together the payload of their home made balloon on its flight test into the stratosphere over the North Sea.
After launch, the balloon was tracked  until it finally set down three kilometers off shore.  When Taylor finally recovered the balloon, he found the items in the payload were unaffected by the harsh marine environment, having been kept safe and secure with gaffers tape.
Read Josh Taylor's account of the sub-orbital space flight here.

Allabouttape.com is your source for information about the adhesive tape industry. All the news about gaffers tape, safety tapes, duct tape, vinyl tapes and new developments in tape technology. Share your comments and questions with us.