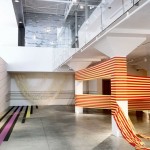 We periodically post interesting articles about artists whose primary medium is tape.  Their work is interesting, but seldom memorable and a lot of it seems to bridge the line between art and craft.
Not so for the newest exhibition at Raleigh N.C.'s new Contemporary Art Museum.
CAM Raleigh is featuring pieces by Texas artist Rebecca Ward, whose geometric installations make use of building features in ways that really highlight this new gallery.
Her work appears in both two and three dimensions and uses color, shape and light to mix disciplined form with chaos.
Click here to learn more about this innovative installation.

Allabouttape.com is your source for information about the adhesive tape industry.  All the news about gaffers tape, safety tapes, duct tape, vinyl tapes and new developments in tape technology. Share your comments and questions with us.