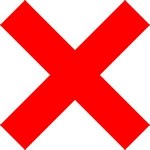 I spent yesterday afternoon driving through eastern North Carolina, one of the areas hit most heavily by hurricane Irene.  All along the main highways, stores with large glass windows and doors had tape stretched from side to side, apparently to minimize flying glass if the windows were broken.
According to the most recent recommendation from the Hurricane Research Division at the National Oceanic and Atmospheric Assoc., taping of windows is no longer recommended.
This April 2010 advisory from NOAA says that taping of windows is a waste of time, effort and tape.  Not only will tape not protect the window from being broken or shield anyone from flying glass, it creates an unnecessary and complicated clean up problem if the tape adhesive is left on the glass for too long.

Allabouttape.com is your source for information about the adhesive tape industry.  All the news about gaffers tape, safety tapes, duct tape, vinyl tapes and new developments in tape technology. Share your comments and questions with us.