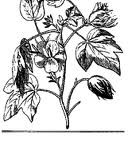 This site came into being as a response to a notification for a major gaffers tape manufacturer that they would implement a "downsizing"  of the standard size of a roll of this entertainment industry staple from 60 yards to 55 yards.  This, and at least three other price increases over the last 18 months were said by the manufacturer to be a response to continuing increases in raw material prices.
We decided that it was time to pay more attention to the materials that are used to make gaffers tape, so we started tracking the futures markets for these commodities.
After a couple of months of watching these markets, it seems like this is a good time to examine the price trends.
Cotton-
Cotton is the principal component in gaffers tape.  It gives it a matte (non-light reflecting finish), provides strength, and has a tight weave which means that it tears cleanly and requires no cutting tools.
On May 2, when we started tracking cotton futures, the price was $175.91 per 100 pounds.  Today, the price is $106.59.  In a little over two months, the price has decreased 39.4%.
Oil-
Gaffers tape has and adhesive called synthetic rubber which is a petroleum derivative.  This adhesive allows gaffers tape to remove cleanly, leaving no residue on cables, carpet or flooring.
The futures price for a barrel of oil on May 2 was $113.52.  Today, the price for oil stands at $106.59 and has fallen as low as $90.61 (June 27).  Currently the price for oil is down 6.5% from when our tracking started.
Natural Gas-
Natural gas derivatives also play a part in the formulation of gaffers tape adhesive and other tape adhesives.  The price on May 2 was $4.69.  Today the price is $4.33, a decrease of 7.6%.
All indicators seem to point to a reduction in price of cloth backed tapes at some point in the near future.  If you are a re-seller or end user of these products, we hope that you will share this information with your suppliers.

Allabouttape.com is your source for information about the adhesive tape industry.  All the news about gaffers tape, safety tapes, duct tape, vinyl tapes and new developments in tape technology.  Share your comments and questions with us.