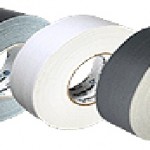 Following an announcement by major tape converter Pro Tapes and Specialties  that they would downsize the standard length of a roll of gaffers tape from 60 yards to 55 yards, tape distributors began shipping 55 yard rolls this week.
Read more about this significant change here.

Allabouttape.com is your source for information about the adhesive tape industry.  All the news about gaffers tape, safety tapes, duct tape, vinyl tapes and new developments in tape technology.  Share your comments and questions with us.