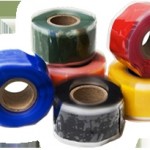 Rescue Tape, the emergency silicone repair tape, has announced that sport fishing legend  Ronnie Kovach will be their official spokesperson.
Rescue Tape will feature an appearance by Kovach at this weeks ICAST fishing expo in Las Vegas.
Rescue Tape sees lots of growth opportunities in the the sports fishing industry where quick and reliable repairs to hoses, cables, wiring and electronics.  The tape makes a great grip for fishing rods and, since it is non-adhesive, it stands up to constant exposure to water and the elements.

Allabouttape.com is your source for information about the adhesive tape industry.  All the news about gaffers tape, safety tapes, duct tape, vinyl tapes and new developments in tape technology.  Share your comments and questions with us.