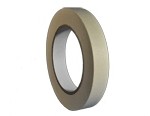 If you're like me and start a project, only to forget about it as soon as a better opportunity comes along, then you've probably faced this problem.
I'm talking about doing all the prep work on a painting job and then moving on to something else (fishing, maybe?).  It's fine to sand and grind and prime, but if you also apply masking tape before taking a break, you may find that the tape is impossible to remove when the job is finally finished.
Even painters grade masking tape (the blue and green versions of this product) will start to dry out and become difficult to remove if left in place more than a couple of weeks.
Here's how to get that tape off when the time comes.
You'll need either some acetone (available at any hardware store) or some citrus-based adhesive remover.  Dip a clean soft cloth in the solvent and rub it on the tape adhesive and let it soak in for two or three minutes.  Use another clean cloth to wipe up the now softened adhesive.
Make sure you work in a well-ventilated space and be sure to completely remove and dry the solvent once the adhesive is removed.

Allabouttape.com is your source for information about the adhesive tape industry.  All the news about gaffers tape, safety tapes, duct tape, vinyl tapes and new developments in tape technology.  Share your comments and questions with us.