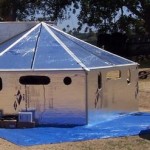 About this time every year, we started to get mysterious calls about an extra wide version of a product we sell called bifilament tape. It is a vinyl tape reinforced with fiberglass strands and our primary customer use was as a bundling tape.
When the number of calls became so steady that we could no longer ignore them, we got an introduction to Burning Man.
Burning Man is a counter culture gathering in the Nevada desert that takes place at the end of every summer.  The preferred housing for the week long event is an eight sided temporary structure called a hexayurt and, as it turns out, a critical component in hexayurt construction is six inch wide bifilament tape.
Since getting introduced to this new tape customer base, we have rolled out a web site dedicated to hexayurt construction and made lots of new friends.
You can find out more about hexayurts here.

Allabouttape.com is your source for information about the adhesive tape industry.  All the news about gaffers tape, safety tapes, duct tape, vinyl tapes and new developments in tape technology.  Share your comments and questions with us.