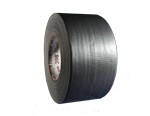 The urban legend that duct tape will remove warts has been confirmed by no less an authority than CBS News Healthwatch.
Research reported in the the Archives of Pediatrics and Adolescent Medicine found that use of duct tape for wart removal was more effective and less painful than using liquid nitrogen, the process that freezes off a wart.
You can read more about the research findings here.

Allabouttape.com is your source for information about the adhesive tape industry.  All the news about gaffers tape, safety tapes, duct tape, vinyl tapes and new developments in tape technology.  Share your comments and questions with us.