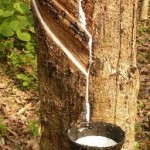 We're always on the look out for ways to increase our knowledge about tape manufacturing, particularly when it comes to the raw materials that are used to make the different products we sell.
Duct tape gets its "stickiness" (known in the industry as adhesion) from an adhesive made from natural rubber, the material that is harvested from rubber trees.  Most of this material comes from Southeast Asia.
We were ready to order what appears to be the definitive study on the manufacturing of this product.  That was before we learned that the report costs $400.00.

Allabouttape.com is your source for information about the adhesive tape industry.  All the news about gaffers tape, safety tapes, duct tape, vinyl tapes and new developments in tape technology.  Share your comments and questions with us.