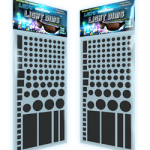 My posting on light tape last week was about a high tech way of providing "glow in the dark" tape capabilities that never required recharging of the tape.
Light Dims is a product that strives to do just the opposite and in an extremly low tech way.  The proliferation of LED indicator lights means that you can never get away from things glowing, blinking or generally demanding to be noticed.
Light dims is a set of die cut black  tape dots and squares that can be placed directly over the offending LED.  They use an adhesive that removes cleanly (no residue) and they can be reused over and over.  The tabs are opaque so they completely block the light source
It's an interesting idea if you've tog $6.00 to throw at the problem.    You can get the same results with a $.99 roll of electrical tape.
Read more about Light Dims here.

Allabouttape.com is your source for information about the adhesive tape industry.  All the news about gaffers tape, safety tapes, duct tape, vinyl tapes and new developments in tape technology.  Share your comments and questions with us.