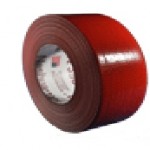 A Midwestern Health Systems hospital is using red duct tape to create a "safe zone" for allowing hospital staff to communicate with isolated patients without having to don gloves and masks.
It appears that taping a three foot square just inside a patients door and having health care providers occupy the square when communicating with infectious patients is enough to insure the safety of the staff.
The hospital reported a savings of $110,000  in a single year and 2700 hours of staff time by being able to avoid "suiting up" in order to communicate with a patient.
A six dollar roll of red duct tape is enough to create 20 "safe zones" by simply outlining the space on the hospital room floor.
Allabouttape.com is your source for information about the adhesive tape industry.  All the news about gaffers tape, safety tapes, duct tape, vinyl tapes and new developments in tape technology.  Share your comments and questions with us.