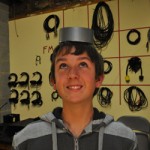 When you sell a "real"  item, something with mass and size, then you need an infrastructure to deliver it, store it and sell it.  On one hand, that's a good thing, because it means that it can't be endlessly replicated like a recorded song or a printed page.  The obvious downside is the cost of  manufacturing, shipping, storing and selling becomes a very big part of the cost the customer pays for your item.  It is a difficult trade off and one that constantly has me thinking about some sort of virtual or digital product we could sell.  Duct tape is heavy, requires trucks and warehouses, and is subject to raw material pricing fluctuations.
When a news alert for "digital duct tape" showed up in my email in box, I dropped everything I was doing to read the article, even though I knew that there could obviously never really be any such thing.
It turns out that "digital duct tape" is a descriptor for tying together a numer of web services, a service called "if this, then that".   An example might be "if i post something on YouTube, then post a link to it on my Twitter account.
At this point, If This, Then That is an invitation only service.  We've requested an invitation and will report back when we get an account set up.
That having been said, we'll keep on the the lookout for true "digital" duct tape.

Allabouttape.com is your source for information about the adhesive tape industry.  All the news about gaffers tape, safety tapes, duct tape, vinyl tapes and new developments in tape technology.  Share your comments and questions with us.