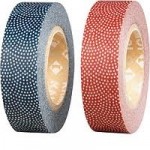 A  hand-tearable adhesive backed tape is a new take on Japanese washi tape and is sparking new creations among craftspeople who use tape in innovative art projects.
This thin, hand tearable tape  features printed designs right on the tape, but is easier to handle and less expensive than the Japanese product.
Tissue tape is finding lots of uses in scrap booking, gift wrapping, collage and poster making, and lots of other bright creations.
See tissue tape in action here

Allabouttape.com is your source for information about the adhesive tape industry.  All the news about gaffers tape, safety tapes, duct tape, vinyl tapes and new developments in tape technology.  Share your comments and questions with us.